Printer-friendly version
Graduate student day plan
One of the core themes of the LTER network to develop and discover concepts of natural systems that contributes to the advancement of the health, productivity, and welfare of the global environment, thereby advancing human well-being. To develop such insights requires long-term and broad-scale research to understand key environmental phenomena. The most effective method for identifying these global scale phenomena is to conduct cross-ecosystem scale research. In this proposed graduate student symposium, we aim to develop a platform for idea sharing that will hopefully facilitate cross- LTER research at the graduate student level. We propose the graduate student symposium be separated up into two sessions which are discussed in detail below:
Sunday Morning
1) Summary talks highlighting core questions and key findings from representative LTER sites
For the morning of the graduate student symposium, we propose to convey key information about each LTER site and current graduate student research using an ESA ignite style approach. The purpose of these talks will be to tell a brief story of site's past research that has led to their current research questions. Coupled with this brief site overview, student representatives will highlight key finds and new work from students in attendance at the LTER ASM. Talks will be limited 8-10 minutes with data slides and figures being used sparingly. The focus of this ignite session will be more on current graduate student work, therefore, the brief summary of respective LTER site history should just be enough to inform the audience of the general research theme of the site
Expected outcomes
We expect that using this ignite framework, will provide graduate students with an overall understanding of LTER site research, as well as specific projects graduate students are working on in attendance, that should create a good platform for facilitating idea sharing. To ensure that students at different motivational and academic levels have a chance to produce a tangible product, we will inform attending students of other potentially positive professional and network products that students can engage in and complete. Our expected outcomes are conceptualized in the figure below.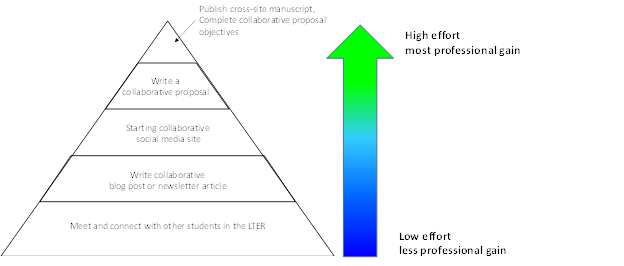 Figure 1) Conceptualization of expected outcomes. The size of the area in each of the box of the pyramid corresponds to the proportion of students that likely participates in or completes each activity.
Hopefully, every student in attendance will meet and interact with students from other LTER sites that may lead to long-term professional relationships in the future. A smaller proportion of the students in attendance may work together to develop a "non-academic" product such as a newsletter article for the LTER network news or a blog post. Fewer students may work together to produce multiple "non-academic" products or potentially start a cross LTER site, social media outlet, such as a twitter account, blog, or Facebook page, that may highlight a particular LTER research theme. Last, even fewer students may pursue and complete an academic product, such as a special session at a national conference, collaborative cross-site proposal or a collaborative paper.
Speaker list and agenda:
Time
Speaker
SITE
General grouping
8:30-8:50
Ross Boucek
LNO
8:50
Sam Zipper
NTL
Aquatic
9:00
Christie York
SBC
Aquatic
9:10
Ali Freibott
CCE
Aquatic
9:20
Stella Swanson
MCR
Aquatic
9:30
Shelby Servais
FCE
Estuary
9:40
Fan Li
GCE
Estuary
9:50
Elizabeth Murphy
VCR
Estuary
10:00
BREAK
10:10
BREAK
10:20
Dorothy Borowy
BES
Urban
10:30
Kate Glanville
KBS
Urban
10:40
Amalia Handler
CAP
Urban
10:50
Lau Gherardi
JRN
Desert/grassland
11:00
Ellen Welti
KNZ
Desert/grassland
11:10
Siddarth Iyengar
CDR
Desert/grassland
11:20
BREAK
11:30
BREAK
11:40
Ashley Asmus
ARC
Cold
11:50
John Knowles
NWT
Cold
12:00
Ashley Shaw
MCM
Cold
12:10
Alix Conway
BNZ
Cold
12:20
LUNCH
1:20
LUNCH
1:30
Rebecca Sanders-Demmot
HBR
Forest
1:40
Lauren Alteio
HFR
Forest
1:50
Charles Scaife
CWT
Forest
2:00
Matt Kaylor
AND
Forest
2:10
Aaron Hogan
LUQ
Forest
2:20
BREAK
2:30
BREAK
2:40-3:40
Breakout sessions
3:40-4:00
BREAK
4:00-5:00
Closing reports from breakout sessions
Working groups
| | |
| --- | --- |
| Room | Name |
| RM 1 | Disturbance and community ecology in the LTER |
| RM 2 | Drought resistance and resilience: Definitions, drivers, and responses across LTER ecosystems |
| RM 3 | Carbon Cycling and Ecosystem Ecology |
| RM 4 | Aquatic ecosystems |
| RM 5 | Building a better student/research community |
| RM 6 | Combining, theory, modelling and experimental data |
| RM 7 | Social sciences in the LTER |
| RM 8 | Does a diverse ecological community promote ecological sustainability: promoting diversity and inclusion in ecology? |
Number of 2 hour sessions requested:
2
Equipment requested:
Projector and large screen. Microphone at podium with 2 mobile microphones.
Additional Comments:
The main meeting will be held in the auditorium with breakouts as needed in the 4 rooms in the back of the auditorium.
Room Assignment:
Ruesch Auditorium -(Capacity 800)